As part of SIP's drive to ensure that our members are continually developing their skills, knowledge, and to encourage contributions to the planning fraternity throughout their professional careers and beyond, SIP has instituted a Continuing Professional Development (CPD) requirement for all registered members across the various membership categories. Members will be able to earn CPD points when they attend events, speak at approved conferences, or be involved in SIP events organisation committees.


The table below shows the breakdown of the CPD points requirements for the various membership categories: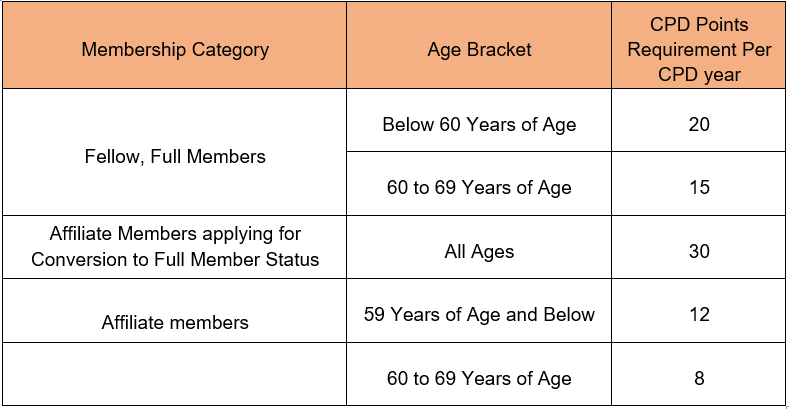 Notes:
Please refer to CPD Points Policy below.
CPD Points Policy


Points are awarded for accredited events. The calendar of events can be found here. Upcoming events will be announced via our monthly newsletter, and updated on the SIP website.
The new CPD Reporting Year will follow the calendar year (i.e. 1 January to 31 December) from 1 Jan 2019 onwards. The revision to align the CPD Reporting Year with the calendar year is made possible with the launch of the new e-CPD platform in 2019. For 2019, the CPD points earned during the last two months of 2018 (i.e. November and December 2018) will be added to the points earned in 2019, since the previous CPD Reporting Year ended on 31 Oct 2018.
Members are allowed to earn up to 20% of their required CPD points by volunteering their services in SIP Committees or Special Projects (events).
Excess CPD Points obtained in a year can be carried over only to the following year. For example, if the CPD points obtained in 2019 is say 28, 20 points can be used for fulfilling the 2019 SIP CPD Requirement and 8 points can be carried forward for fulfilling 2020's requirement.
From May 2019 onwards, Members will be able to log into their personal CPD account in the SIP portal, to check their cumulative CPD points earned for the events they have attended within 3 weeks of their attending the event.
For those in category B, i.e. "Affiliate candidates applying for conversion to Full Member status" have to achieve 30 SIP CPD Points within 2 years. Candidates are allowed to choose their start date of the two-year period to earn the 30 CPD point required. Candidates can choose their two-year period to start from:
the date the UPFC was conducted (typically held in November), or
from 1 January of the same year the UPFC was conducted.
However, Candidates must declare their choice of the start date to SIP CPD Secretariat upon receipt of notice of passing the UPFC examination.